Are you ready to get started?
You will work alongside Top 40 Woodworks industry specialists to create the home of your dreams. Our team of specialists is made up of award-winning designers who will work with you to create your custom design. Whether it is a big space or just a small room you have to work with, our industry leading designers will work with you to get the perfect fit for you and your family. Our professionals will work together with you to develop closets, cabinets and storage units that are unique to you and fit all of your needs and wants.
The design process starts in our 3,000 sq/ft cabinetry showroom, where we hold the first two design meetings. When attending your first design meeting, we ask that you bring a basic sketch of the space we're working with. This can be a blueprint (if building new) or a basic hand sketch of the area showing wall lengths, wall height, windows and doorways.
Following the first meeting, our designer requires 1-2 weeks (depending on the size of the project and workload) to prepare a well planned, custom design & proposal. 
Once you are happy and satisfied with your custom cabinet design, it's time to build. Top 40 Woodworks cabinet and closet manufacturing is filled with the same pride and passion that goes into the design. All of the cabinets and closets are manufactured by highly skilled and experienced craftsmen with the top-of-the-line quality machinery in a state-of-the-art facility.
Your custom cabinets will be built to last and will be carefully put together. Top 40 Woodworks only uses the finest Canadian made products for all of their builds.
After it's all built and ready for you, professional and skilled installers will deliver and install the designs, making sure that everything is perfect and you are happy before they leave. The installers at Top 40 Woodworks pride themselves on quality and customer service. They will make sure the job is done right and that your vision comes to life. The installation will be quick and seamless.
From start to finish, Top 40 Woodworks will make sure you are a priority and that you get the home storage and cabinetry products that you deserve and have always wanted.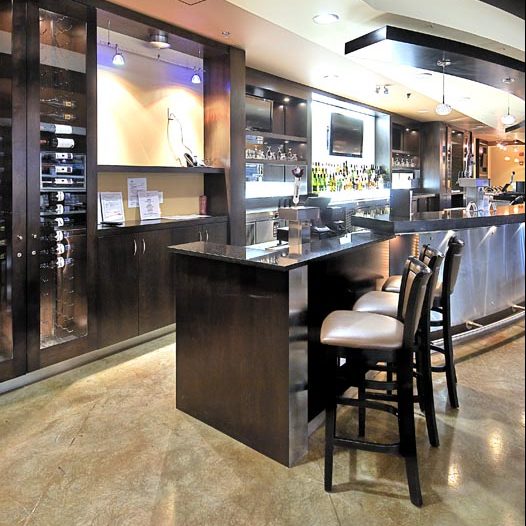 We are an AWMAC certified millwork company that originally began as a kitchen and countertop business. We have now grown to encompass three divisions – Commercial Millwork, National Store Fixtures, and Residential Kitchens within our 65,000 sq ft facility, which features our innovative kitchen showroom. At Top 40, we believe in utilizing technology to our greatest advantage. For this reason, our manufacturing plant is focused on automation, and has some of the finest machinery available in the industry.Our in-house design team utilizes the latest in computer graphics to help our clients visualize their final product.
Simply stated, we supply our clients with the best millwork product possible.
Our satisfaction comes with yours.
Our Recent Commercial clients